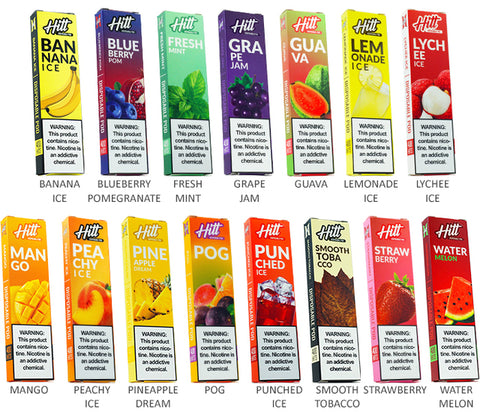 Hitt Go Disposable 5%
Flavors Profiles:
Mango - Luscious mangoes make an appearance to lend their tropical essence to this delectable flavor.

Mint - Refreshing sprigs of mint are steeped in neutral nicotine salts to capture the uplifting flavor that will delight the taste buds.

Smooth Tobacco - Freshly harvested tobacco is baked and heated to develop the robust yet smooth flavor that will delight the senses.

Strawberry - Sliced summertime strawberries lend their sharp sweet flavor to create this flavorful nicotine salt mixture.

Watermelon - Summertime watermelons bursting with flavor are juiced to collect the cascade of delicious flavors that will delight those who taste it.

Pineapple Dream - Tropical dreams of pineapples being juiced to extract the deliciously citrusy flavors that will excite the taste buds.

Grape Jam - Purple table grapes are pureed into delectable jam, perfect for breakfast or toast applications, but even better in vape form.

Banana ICE - Frozen Bananas are mixed with nicotine salts for a strong but flavorful hit of bananas followed by a gust of menthol.

Lemonade ICE - A tall glass of mouth puckering lemonade is stirred with a handful of ice for a sweet and sour frigid vape experience.

Guava - Luscious tropical guavas are blended with nicotine salts for a sweet flavor that will tantalize the tongue.

Peachy ICE - Peaches bursting at the seam with sweet nectar is juiced, mixing the nectar with nicotine salts and menthol for a delicious vape.

Punched ICE - Sweet tropical punch is mixed with nicotine salts and menthol for a delectably fruity yet uplifting vape.
HITT GO Disposable Vape Pen Features:
Dimensions - 100mm by 20mm by 7mm

Disposable - Non-Rechargeable & Non-Refillable

5% Nicotine Salt Strength

400 Puffs Approx.

Draw-Activated Firing Mechanism

Voltage Output: 3.7V

Integrated 280mAh Battery

1.8mL Juice Per Vape Pen

Comes in a pack of one (1)