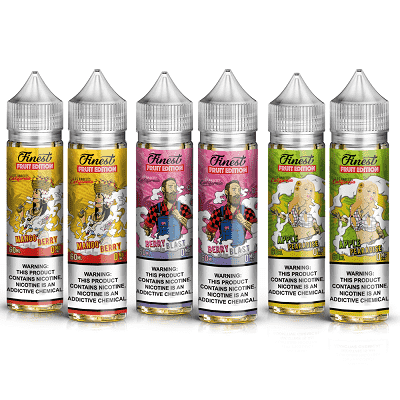 Finest Fruit Fruit Edition 60ml
Finest Fruit Fruit Edition 60ml
Berry Blast - A delectable berry blend that unites a whimsical pairing of tart and sweetness. This exceptional flavor profile captures nuances from a myriad of colored berries, such as strawberries, raspberries, & a hint of blackberries. This iconic flavor immediately commands the attention of its audience upon first taste.
Berry Blast On Ice - Get yourself acquainted with this glacial game-changer. Berry Blast on Ice commands an impeccably smooth flavor profile worthy of any serious vaper's rotation. Expect a medley of colored berries including raspberries, blackberries and strawberries with a smooth icy kick on the back note.
Apple Pearadise - A cornucopia of mouthwatering fruits, Apple Pearadise embodies the perfect balance of sweet and fruity. Expect an exquisite blend of crisply ripe apples on the inhale, with a tinge of pear on the exhale that is every bit subtle as it is prevailing. A signature juice truly worthy of our namesake.
Apple Pearadise On Ice - Buckle up and prepare for tastebud heaven! Apple Pearadise is a classic combination of ripe green apples and juicy pears with a perfectly balanced twist of menthol. The result is a lip-smacking crisp, fruity and chilly vape that only gets better with every hit.
Mango Berry - A frenzied concoction of mango and strawberry, this flavor epitomizes raw sensory overload in e-liquid form. With a distinctive mango note upon first taste, this flavor gradually evolves into a well-rounded vape with a surprise twist at the end. The result is a top-shelf juice that distinguishes itself above the rest.
Mango Berry On Ice - Beat the heat with this minty fresh all-time classic, a unique flavor that embodies pure vaping bliss. With the perfect pairing of orange mangoes, bright red strawberries, and the cool kick of menthol, Mango Berry on Ice is sure to keep you frosty all year long.
Finest Fruit Fruit Edition Features;
One 60ml Bottle

Child Resistant Cap