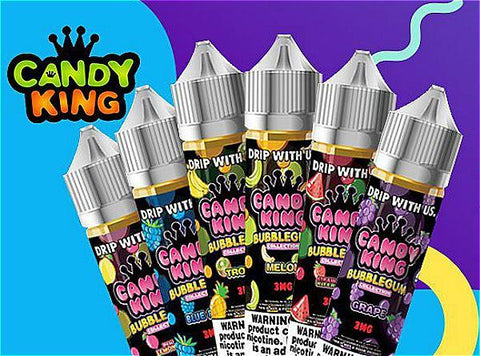 Candy King Bubblegum Collection 60ML
Candy King Bubblegum Collection 60ML
Melon - The sweet fruity nectar from succulent melons bursting at the juicy seams to be combined with a sweet infusion of bubblegum chew.
Tropic - Is a blend capturing the exotic fruity notes of a tropical island, enhancing a sweet bubblegum chew with hints of banana, kiwis, mangoes, pineapples, and oranges to create a deliciously sweet fruit vaping experience.
Grape - The inhale has an authentic grape taste and tartness from the berries that will cause your mouth to drool like a waterfall. Upon exhaling is when the mix of sour candy and bubble gum comes into play and complements the sweet fruity inhale perfectly.
Blue Razz - Is a tangy and sweet blue raspberry infused bubblegum that changes from a mouth-puckeringly sour to a nice sweet that comes subtly in.
Pink Lemonade -  infusing a sweet bubblegum chew with a healthy dose of bright pink lemonade to create a sweetly sour vape juice that will dazzle the tastebuds.
Strawberry Watermelon - A true summer delight, featuring cold and sweet watermelons paired with freshly picked strawberries that get stuffed into the center of a sugary sphere of bubblegum! Take your vape taste buds on a whimsical journey through sweet fruits and chewy bubblegum, all in a single cloud!
Candy King Bubblegum Collection features;
Child Resistant Cap

70% VG

30% PG

Made in USA

Available in 0mg, 3mg, 6mg

One 60ml Bottle