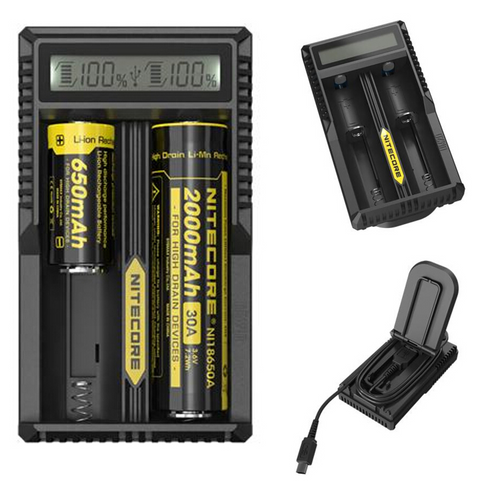 Nitecore UM20 2 Bay
The Nitecore UM20 has the ability to charge Li-ion and IMR cylindrical rechargeable batteries. There are two charging slots that allow monitoring and charging the batteries independently.
The LCD screen displays the process and battery level at real-time.
With the USB output, you can charge your phone and battery at the same time. It is a great battery charger if you are on-the-go. To keep everything organize, there is a USB cable winder.
For more amazing features and on how to use, be sure to check out the user manual
Specifications:
Input voltage: Micro USB DC 5V

Output voltage: 4.2V ±1% / 5V

Output current: 1000mA / 500mA

Compatible with:

Li-ion / IMR: 18650, 18490, 18350, 17670, 17500, 16340(RCR123), 14500, 10440

Dimensions: 100mm × 56mm × 35mm

Weight: 77.2 g (without batteries or power cord)
Nitecore UM20 Battery Charger Features:
USB powered Li-ion battery charger

High definition LCD displays real time charging status

Features USB output charging

Integrated intelligent power management system

Intelligently detects input power

Intelligently distributes charging power

Priority Mode offers either battery or USB charging

Enables data transfer via USB

Features optimized charging program for IMR batteries

Intelligently selects charging current based on battery capacity

Features rear USB cable winder

Constructed from fire retardant materials

Features reverse polarity protection

Designed for optimal heat dissipation

Certified by RoHS, CE, FCC and CEC

Insured worldwide by Ping An Insurance (Group) Company of China, Ltd.
Package comes with:
1x Nitecore UM20 Battery Charger

1x USB Charger Cord      
To ensure your safety and maintain the battery's life and durability, we recommend you follow these rules:

Do not over-discharge or overcharge the battery. Doing so will shorten the battery's life and sometimes, it can make it pop or leak.

Please do not short circuit or it will release massive current.

Do not play with fire! Do not dispose any kind of battery in or near any fire.

Do not stack more than one battery as it may potentially blowout and cause serious damage to yourself and place.

Always check battery's condition to see if there are signs of wear and tear. If there is, please dispose the battery.

Do not dispose batteries into the trash as it is against the state's laws.
Note: There is always an inherent risk when using any rechargeable batteries at anytime and under any circumstances. ElementVape.com and any of ElementVape.com's parent and subsidiary companies are not held responsible for any damage for any modification of the batteries, chargers, devices and other products that we carry in any form or shape, this is including pack making.

When working with Li-ion (Lithium-ion), LiPo (Lithium-ion Polymer) and any rechargeable cells, please be cautious and carefully use as they are very sensitive to charging characteristics and may explode or burn if mishandled. Please make sure that you have great knowledge on all rechargeable batteries before you use them. Always charge batteries at the clean and fire-proof surface. Never leave charging batteries unattended. If you see that there are visible damages on the batteries, please do not use. Always keep, store and transport the rechargeable cells in a safe, non-conductive container in controlled environment.

Do not use any rechargeable battery as well as any battery charger if any visible damage is present, as well as if the cell or charger has been stressed through mishandling, accidental or otherwise, even if damage may not be visible. Always store and transport rechargeable cells in a safe, non-conductive container in a controlled environment. Please dispose battery cells, chargers or any other electronic devices in accordance of local laws and mandates.