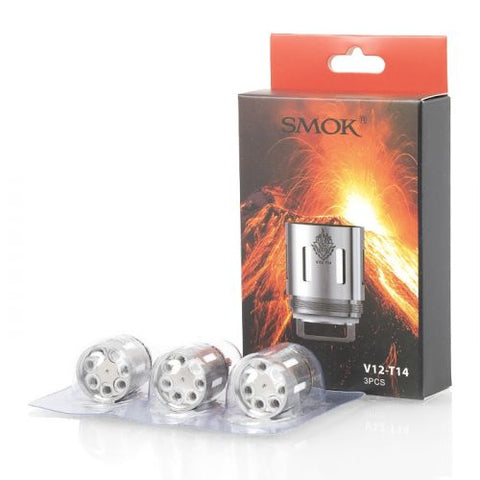 SMOK TFV12 Coils (1pc)
The SMOK TFV12 Turbo Engines Replacement Coils are unmatched performance atomizer cores introduced with the supreme TFV12 CLOUD BEAST KING. Designed for high-powered configurations, it offers undisputed vapor production potential for a memorable vaping experience. 
(THESE COILS ARE SOLD INDIVIDUALLY AS ONE (1) COIL)
It is offered in a variety of different sub-ohm coils: V12-T14, V12-T12, V12-T8, V12-T6, V12-X4, and V12-Q4. The TFV12 V12-T12 is the flagship atomizer technology, featuring a 0.12ohm within a Duodinary/Twelve coil cylinder to provide unsurpassed amount of vapor capability, capable of firing up to a staggering 350W. The TFV12 V12-X4 is a 0.15ohm quadruple coil design with powerful clouds, capable of being fired up to 220W for a deep and rich cloud experience. The TFV12 V12-Q4 is a 0.15 quadruple coil synonymous with tempered cloud potential while retaining superior flavor, with an optimal range of 90 to 160W.
Coil Compatibility -
- Smok TFV12 Cloud Beast King Tank
- Cigpet Eco12 Tank
- Vapefly Fantasy Tank
Replacement Coils are not compatible with the SMOK TFV12 Prince.
V12-T14 Fourteen Coil Design

0.12ohm rated for 80-350W, recommended 120-200W
V12-T12 Duodenary/Twelve Coil Design

0.12ohm rated for 60-350W, recommended 130-200W
V12-T8 Octuple Coil Design
0.16ohm rated for 70-320W, recommended 120-200W
V12-T6 Sextuple Coil Design
0.17ohm rated for 90-320W, recommended 120-180W
V12-X4 Quadruple Coil Design

0.15ohm rated for 60-220W, recommended 100-170W
V12-Q4 Quadruple Coil Design

0.15ohm rated for 60-190W, recommended 90-160W