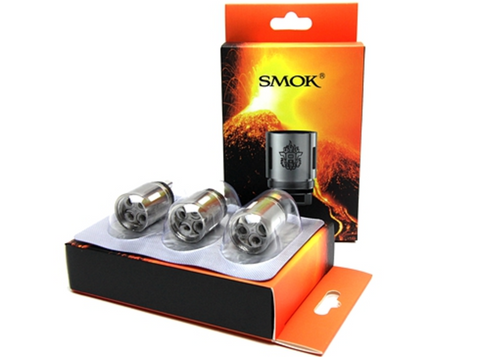 TFV8 Atomizers (1pc)
The SMOK TFV8 Tank is unquestionably one of the most feature-rich, exciting, and well-performing tanks ever to be released to the vaping community. Capable of competition-level performance, this beast can satisfy even the most skilled of vapers. One of the primary factors in the unsurpassed delivery of the SMOK TFV8 Tank are the sensational atomizer coils that have been engineered to operate with it. Available in several forms, all of the SMOKtech TFV8 atomizer coils function remarkably well with respect to vapor production and flavor intensity.
The SMOK V8-T6 Atomizer Coils feature an incredible sextuple-coil design. With six separate coils, the V8-T6 is set to a resistance of 0.2 ohms and can accommodate wattage as high as 240W. Operating in unison with one another, the V8-T6's coils manufacture a staggering amount of vapor, along with truly intense flavor as well.
The SMOK V8-T8 Atomizer Coils sport a genuinely astonishing octuple-coil arrangement—the only one of its kind. The eight separate atomizer coils work together in accord to deliver vapor and flavor production that can only be achieved with the very best rebuildable atomizers. Set at 0.15 ohms, the extraordinary SMOK V8-T8 can accommodate wattage as high as a mind-blowing 260W.
Perhaps the most impressive, and indeed the most powerful, of the SMOK TFV8 Atomizer Coils is the V8-T10 variation. These decuple atomizers are equipped with a staggering 10-coil configuration, which manufacture truly unmatched volumes of vapor. Set to a resistance of 0.12 ohms, the SMOK TFV8 Deca Atomizer Coils offer vapor production and flavor intensity that can hold their ground against even the most intricate rebuildable dripping atomizer builds.
Regardless of the specific atomizer coil you select, all of the SMOK TFV8 Atomizer Coils are constructed with 100% pure Japanese Organic Cotton as the wicking element. Unlike standard cotton, which is loaded with pesticides, bleach, colorants, and other contaminants, organic cotton is free of any such impurities. The result is a markedly tastier, truer, cleaner, and purer flavor from all of your e-juices.
If you are looking for a competition-level vaping experience without the need to build your own atomizer coils, the SMOKtech TFV8 line of atomizer heads is certainly the way to go.
Note: The TFV8 Atomizer coils are not compatible with the TFV8 Baby Beast Tank.
This listing is for 1 atomizer. Select 3x you would like to purchase a full pack.